This month's guest blog is likely to make us all feel peckish! I'm delighted to welcome Lisa Shepherd, Co-Founder and Director of The Biskery, a bakery that is "spreading kindness one biscuit at a time". Lisa shares with us their story of a campaign that started during the pandemic and has become a weekly celebration of kindness.
In times of crisis, acts of kindness can serve as beacons of hope and comfort. During the pandemic, our biscuits became a vehicle for spreading kindness during challenging times. As the world grappled with uncertainty, we at The Biskery embarked on a remarkable journey, using our delicious baked goods to uplift spirits and bring joy to those who needed it most.
Saskia and I had started our business in 2016 as a home bakery. By early 2020 we were mainly selling logo biscuits to businesses. When the pandemic hit, all our corporate orders came to a halt.
But out of our wish to do something to lift the spirits, the Kindness Biscuit Campaign was born. We aimed to distribute free biscuits to individuals facing hardships, providing them with a small but meaningful gesture of support and comfort.
Biscuits prepared with love
Through our website and social media platforms, we invited people to nominate deserving individuals who could benefit from a sweet surprise. These nominees included frontline workers, vulnerable populations, and those facing personal challenges brought on by the pandemic. The response was overwhelming, with numerous heartfelt nominations pouring in from all corners of the community.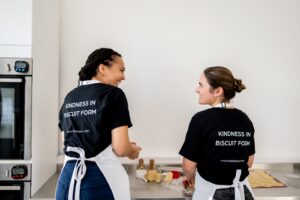 We took great care to ensure that each biscuit gift was prepared with love and attention to detail. Our hand-made jam biscuits were embossed with encouraging messages like "Miss you", "Thinking of you", "Stay Safe" and "Hugs & Kisses". They all contained a hand-written personalised gift note as well, to convey the message from the sender to the receiver beyond the sweet gift.
From the moment the recipient received their package, they felt a sense of warmth and compassion. The biscuits were not merely treats; they symbolised a community coming together to offer support and kindness during a time of adversity.
A symbol of ongoing human connection
The impact of the Kindness Biscuit Campaign was profound. Recipients expressed their gratitude and shared heart-warming stories of how the gesture lifted their spirits. For many, the biscuits provided a moment of respite, a reminder that they were not alone in their struggles. The Biskery's biscuits became more than just a tasty treat; they became a symbol of hope, resilience, and human connection.
Our commitment to spreading kindness extended beyond the pandemic when we decided to keep the scheme going, making only small changes. We still send out a limited amount of free Thank You biscuits every Tuesday. We have re-named it to "Gratitudesday", the day we encourage people to take a moment to practice gratitude, and show appreciation to someone in the sweetest way. The biscuits are completely free, including a gift note and postage.
A ripple effect of kindness
This experience, and the impact the kindness biscuits have had, has fundamentally changed how we see our product. Today, we use our platform to raise awareness about other acts of kindness happening in the community. We share stories of individuals and organisations going above and beyond to help others, creating a ripple effect of kindness and inspiring others to take action.
The Kindness Biscuit Campaign showcased the incredible power of a simple act of generosity. The biscuits brought comfort, joy, and a sense of togetherness to those who needed it most. The initiative not only made a tangible difference in the lives of individuals but also sparked a broader movement of kindness and compassion within the community.
As we navigate through uncertain times, let us remember the impact we can have through acts of kindness, big or small. Our journey at The Biskery serves as a testament to the transformative power of spreading kindness one biscuit at a time. Together, we can continue to sow seeds of compassion and build a world where kindness prevails.
Lisa Shepherd is co-founder of The Biskery, a bakery based in Leeds, West Yorkshire, specialising in branded and personalised biscuits. Every Tuesday at 10am they give away a limited number of Thank You biscuits – find out more details, including how to order, on their website.