Our mission at Time for Kindness is to rebalance the narrative and amplify the stories of everyday kindness that already exist in the world. We want to inspire people with the hope and positivity of these stories and encourage people to 'see kind'. But we can't do that alone.
That's why we encourage you to join our movement for change.
Make a pledge*, request the digital badge and become a Kindness Ambassador. It's all about seeing kindness and talking about it to spread the story more widely.
Don't worry, we won't be checking up on you, choosing to become a Kindness Ambassador is entirely voluntary. But we hope that knowing you are part of a wider group is inspiring to you and helps you stay commited to spotting (and talking about) kindness.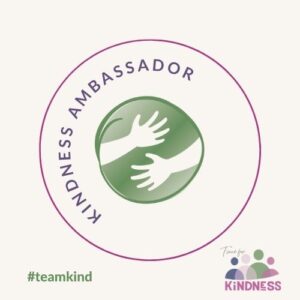 What is it?
A structured way to commit to seeing and sharing kindness in the world using the 3-step process
Step 1: Commit to noticing at least one act of everyday kindness in the world around you each week. If you want to, you could put your commitment in a pledge: 'I pledge to be an ambassador for kindness by…'
Step 2: Each time you notice a kind act, tell at least one other person about it, using whatever method works best for you – for example, in person, via WhatsApp, on social media
Step 3: Encourage the person or people you tell to share the story more widely, creating a wider effect
Who is it for?
People who want to be part of a movement for change
People who want to recognise kindness in the world around them
People who already notice a lot of kindness in the world
People who want to share the hope and positivity of the kindness they notice by telling others about it
*Example pledges
Noticing 1 example of kindness each week & telling my best friend about it
Posting an Instagram story dedicated to examples of kindness once a month
Starting my weekly choir practice by telling everyone about something kind I have seen happening (no more starting by complaining about the weather!)
Encouraging others to talk about the kindness they see
Become an ambassador
Remember, to be recognised as a voluntary Kindness Ambassador, all you need to do is complete a pledge to request the digital badge. It's up to you where you display your pledge and your badge, but we'd love to hear about it. So if you're displaying it on social media, it would be great if you include the hashtag #TimeForKindness